Food Vacuum Packaging Machine
Food Vacuum Packaging Machine
Sanjing

Shanghai, China

30 working days

100 pieces/ year
Stretch film Thermoforming vacuum packaging machines are widely used for the packaging of sausage, ham, cheese, pizza, bean products, whole fish (salmon for example), dried fish, spiced egg, dried tofu, etc. The packages by stretch film thermoforming vacuum packaging machine has the characteristic of Extreme hygineic, Beautiful package, extend shelf life which are all essential especially for food.
Until now our stretch film thermoforming vacuum packaging machines are widely used by customers at home and abroad and the feedback are all positive. New customers are introduced by old customer which form a good benign circle.
In order to shorten delivery time and produce high quality stretch film thermoforming vacuum packaging machine, we draw into another CNC to our factory recently. We believe there is no best but better. We'll try our best to produce proud stretch film thermoforming vacuum packaging machine made in China.
Thermoforming food vacuum packaging machine:

DZL Series automatic stretch film vacuum packing machine made by our company adopts Germany manufacturing technique and designing concept which could realize the function of mold slight adjustment,automatic correcting error of film, mold cooling and one-time cutting of rigid film. We can also realize special application according to customer's demand, such as feeding material by manipulator, weighing system, detection system, labeling system, etc.
Product features of Sanjing Automatic Thermoforming Vacuum Skin Packaging Machine:

1. There is photoelectric tracking system. It's ok to use colorful upper film or film with no pattern which could reduce cost and improve product quality.
2. It adopts mixed mould which is convenient to change mould and with multi-function in one machine. The shell frame of the machine is 304 stainless steel.
3. According to customer's packing demand, coding machine and labelling machine is selectable.
4. According to customer's packing demand, it could fill in Nitrogen or mixed atmosphere after vacuum.
5. It is equipped with vacuum pump imported from Germany which is durable and with high vacuum high and stable quality.
6. There is wastage recycle system which could keep the production environment clean.
7. It adopts advanced cross cutting and vertical cutting system.
8. There is cooling system with the mould which could reduce temperature of the production environment and increase product quality.

Advantages of finished package:
1) Extreme hygineic
2) Beautiful package
3) Long shelf life

Application:
Widely Apply to the packing of bean products, spiced egg, dried fish, dried tofu, sausage, ham, cheese, pizza, etc.

Main parameter:
Model: DZL-420R
Dimensions
7300mm*1100mm*2100mm
Weight
2400kg
Top film width
396mm
Bottom film width
422mm
Working Chamber size
400*380mm
Vacuum pump
Germany
Max stretching depth
80mm
Power
12KW
Air source
0.6-0.8MPA 1.2M2/min
Cooling system for mould
Water cooling
Material for vacuum chamber
Anticorrosion aluminium alloy

Applications: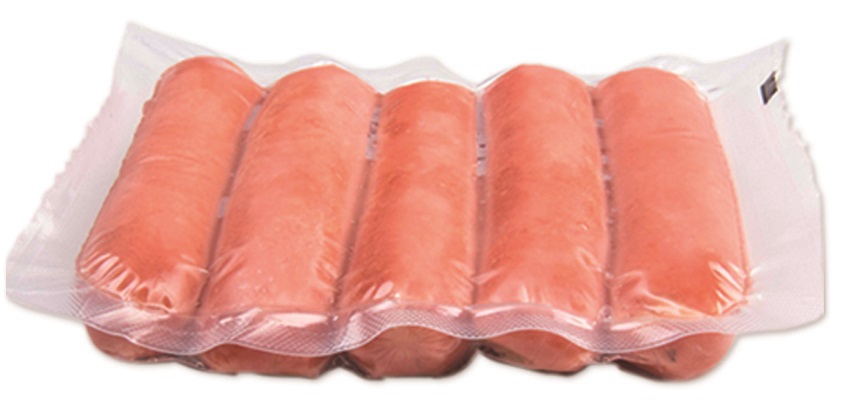 Warranty period:

Warranty period: 1 year
Free technical consulting service pernently.

FAQ:
Q1: What do you need to make a specific offer for my product?
1) The demension of the package
2) Production capacity per hour
3) Any other special requirement you need
Q2: How long does it take to deliver the machine after the deposit?
Usually it will take 30 working days. Before shipment, the machine will be tuned carefully.
About us: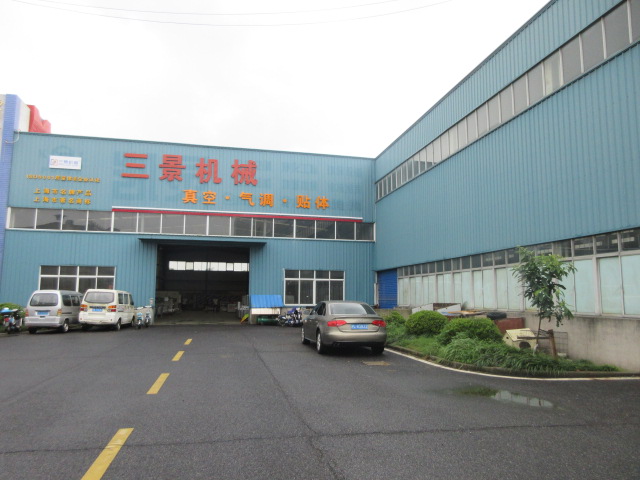 Shanghai Sanjing Machinery Co., Ltd has been in the line of vacuum packaging machine industry for more than 10 years. We have been devoted ourselves to the researching, developing and manufacturing of vacuum packaging machine and now we have 3 main categories: Thermoforming vacuum packaging machine, Vacuum skin packaging machine and Modified atmosphere vacuum packaging machine.
Our machines are widely used in the line of food industry including fresh meat, fruit and vegetable, seafood, snacks, medical supplies, electronics, hardware, etc.
Our satisfied customers includes Marine Harvest Group, PALEXPO, INSIAM, etc. Among which Marine Harvest is the largest supplier producer of Atlantic Salmon in the world. I'm confident that when you work with us, you will enjoy the same satisfaction with them.

Besides, we have CE and SGS certificate for our vacuum packaging machine.
Innovation:
Nowdays we are living in a world which change so fast. In order to keep up with the pace of the times, we've been innovatiing all the time, not only for the machine design, the material, the new electric brand, but also the new packing style.
Two years ago, when vacuum skin packaging machine become popular, luckily we are one of the first manufacturers who have worked out vacuum skin packaging machine for this new packing style and until now our vacuum skin packaging machine are widely used by customers at home and abroad.
Service:
We advocate win-win cooperation and mutual benefit. So we not only provide our esteemed customer with high quality machine, but also our best service. Besides the 1 year warranty, we provide free technical consulting service permanently.